I'm doing this self-imposed art challenge!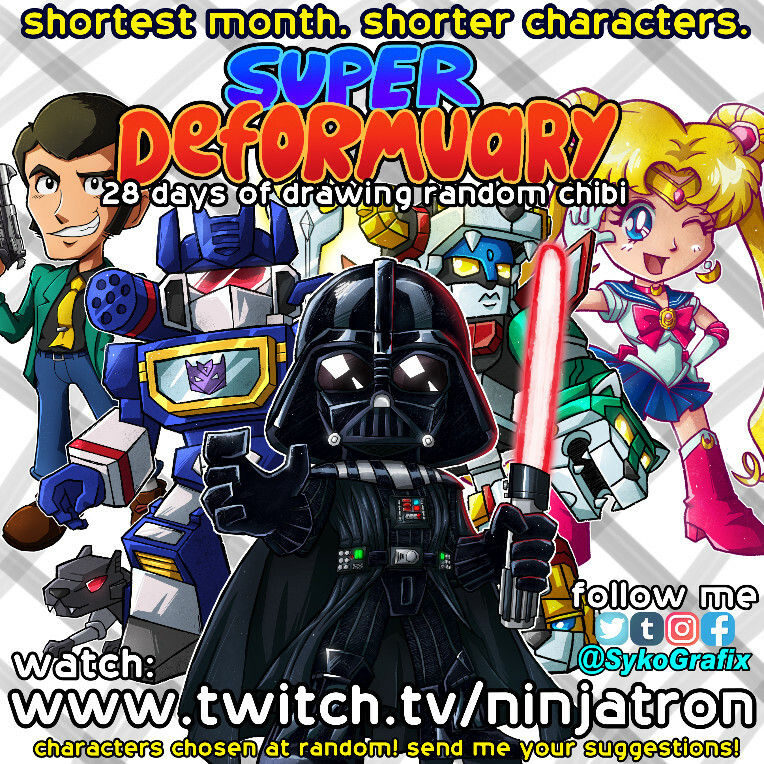 I'm drawing Super Deformed character art all February long, and YOU can help! Reply with suggestions for characters for me to draw. You can suggest characters from Transformers, anime, Super Smash Bros, Star Wars, pretty much anything! If I like it, I'll add it to the list and pull at random, one per day. You can find more info on Twitter here: https://twitter.com/SykoGrafix/status/1356360692899737607
I'll be accepting suggestions until about half way through the month, but get them in now! I'm drawing official characters only.
You'll be able to follow my progress on social media and also watch me make the drawings when I stream on Twitch. Not sure if I'll be able to do it every day but I'll try to stream as much as I can. Follow my channel here: https://twitch.tv/ninjatron
If I succeed in drawing all 28 characters before the month ends, I will celebrate by opening up a big batch of Transformers toys live on Twitch!
Take a look at my website: SykoGrafix.com
Check out my Twitter to keep up with what else is going on. twitter.com/SykoGrafix
Follow my Tumblr for sketches, work in progress pics, toys, and more. sykografix.tumblr.com/
Follow me on Instagram because it's good and stuff. www.instagram.com/sykografix/
I hate Facebook but you can follow me there too I guess. www.facebook.com/SykoGrafix/
Sayonara.