EDIT: Thanks to everyone who watched the panel! I hope to see you on my future streams when I'm just drawing and chilling out.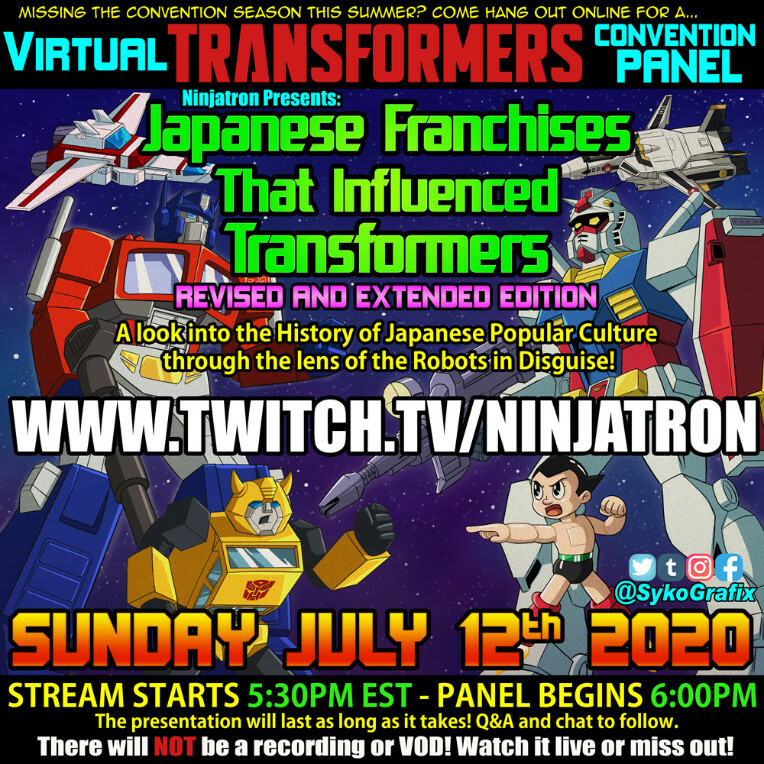 On Sunday July 12, 2020, the weekend that TFcon was original scheduled for before being postponed until September, I will be doing my best to bring a bit of convention magic to the online world as I will be presenting "Japanese Franchises that Influenced Transformers" live to my Twitch channel. It's a panel that traces the earliest beginnings of modern Japanese popular culture, how robots became such a popular subject, and how it all eventually lead up to the creation of what we know today as Transformers.
I first presented this panel at TFcon live in 2016. It's an idea that I had for a long time, as the history of Japanese animation, films, and TV Shows is something that I love to research and talk about, and Transformers is a part of that. I was so incredibly nervous going into the presentation, not because of speaking in front of an audience (that's the fun part), but rather because I was scared of running out of time. I managed to get though it all with a whopping 5 minutes to spare. Now, being online on my very own Twitch channel, I don't have to worry about that. I'll be going as long as it takes! Which is perfect because I'm also adding some new content to the panel for this presentation.
Everyone is welcome, even if you're not a part of the usual TFcon crew or have never been to a Transformers or anime show before. You don't even need to have a Twitch account to watch, but you will need an account to chat. I won't be interacting with the chat during the presentation itself, and all notifications and redemptions will be turned off during that stretch of time. But we'll have a brief moment to chill from 5:30pm EST before I start the panel at 6, and then a Q&A session afterwards, and I'm looking forward to that.
Should be a fun time. It won't be the same as hanging out with everyone at TFcon, but it'll be a good way to celebrate the things we still love even while quarantined.
I hope to see you there!
EDIT: Added a Facebook Event page.
Sayonara.